Regular price
Sale price
Rs. 767.00
Unit price
per
Sale
Sold out
Accessorize your desk with the elegant concrete Pen Stand. Made from natural high performance concrete mix,  the pen stand is adequately spacious to hold a stack of pens, pencils etc. An impeccable match for any busy work desk.
Dimensions : 60 mm X 60 mm X 95 mm
Weight : 250 g
Lead time : 4-5 Days
Download Catalog
Care Guide
Delivery Guidelines
View full details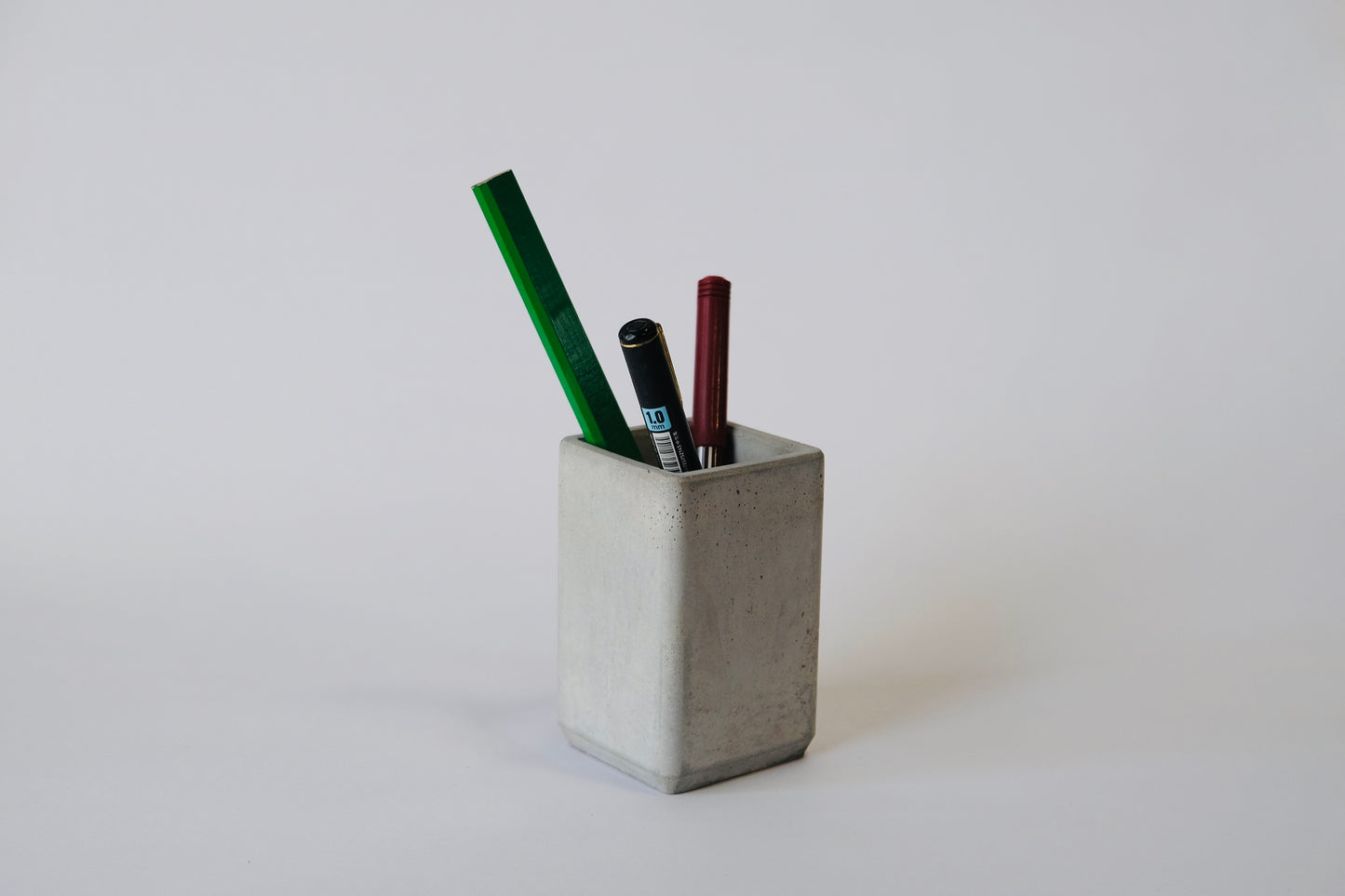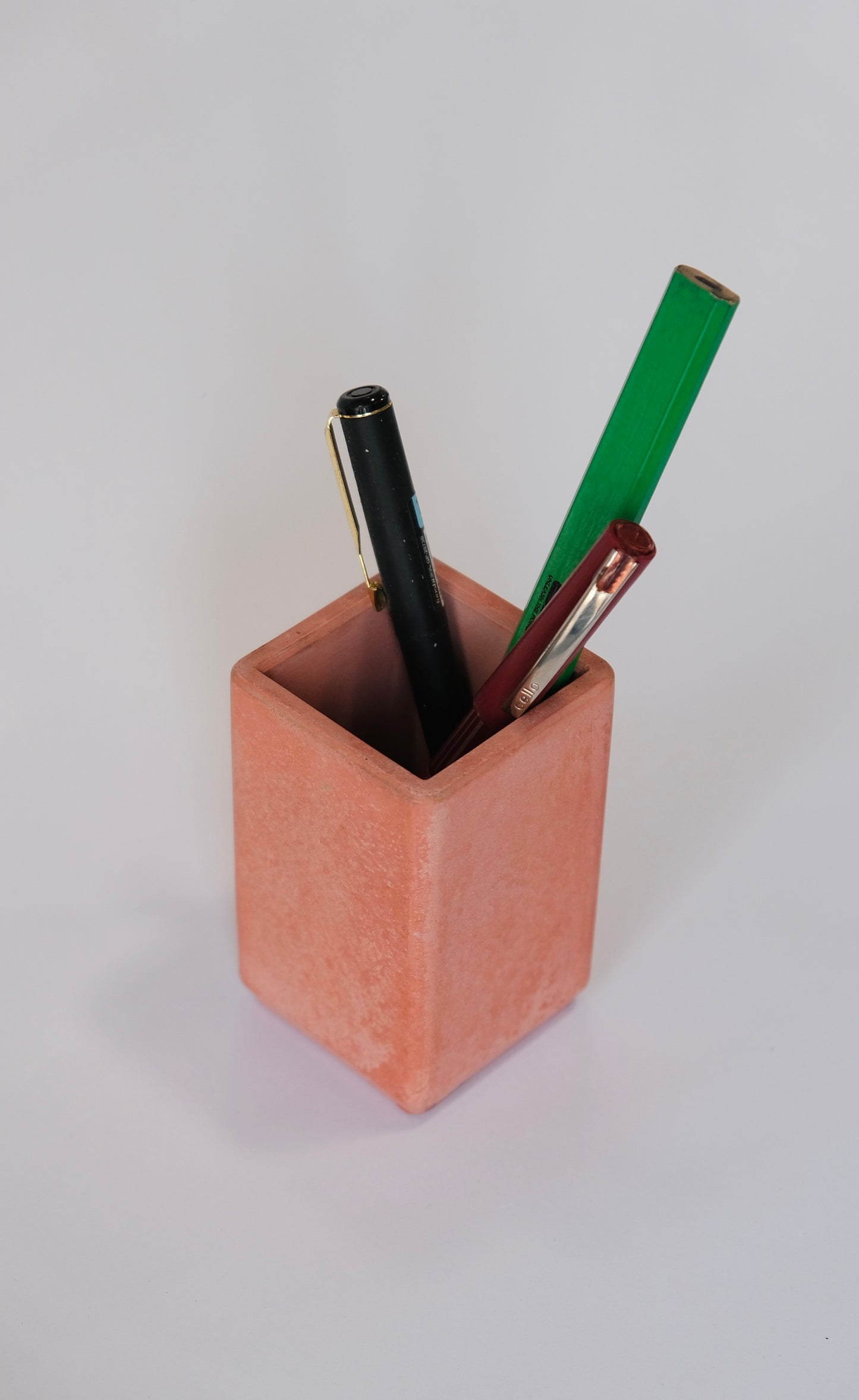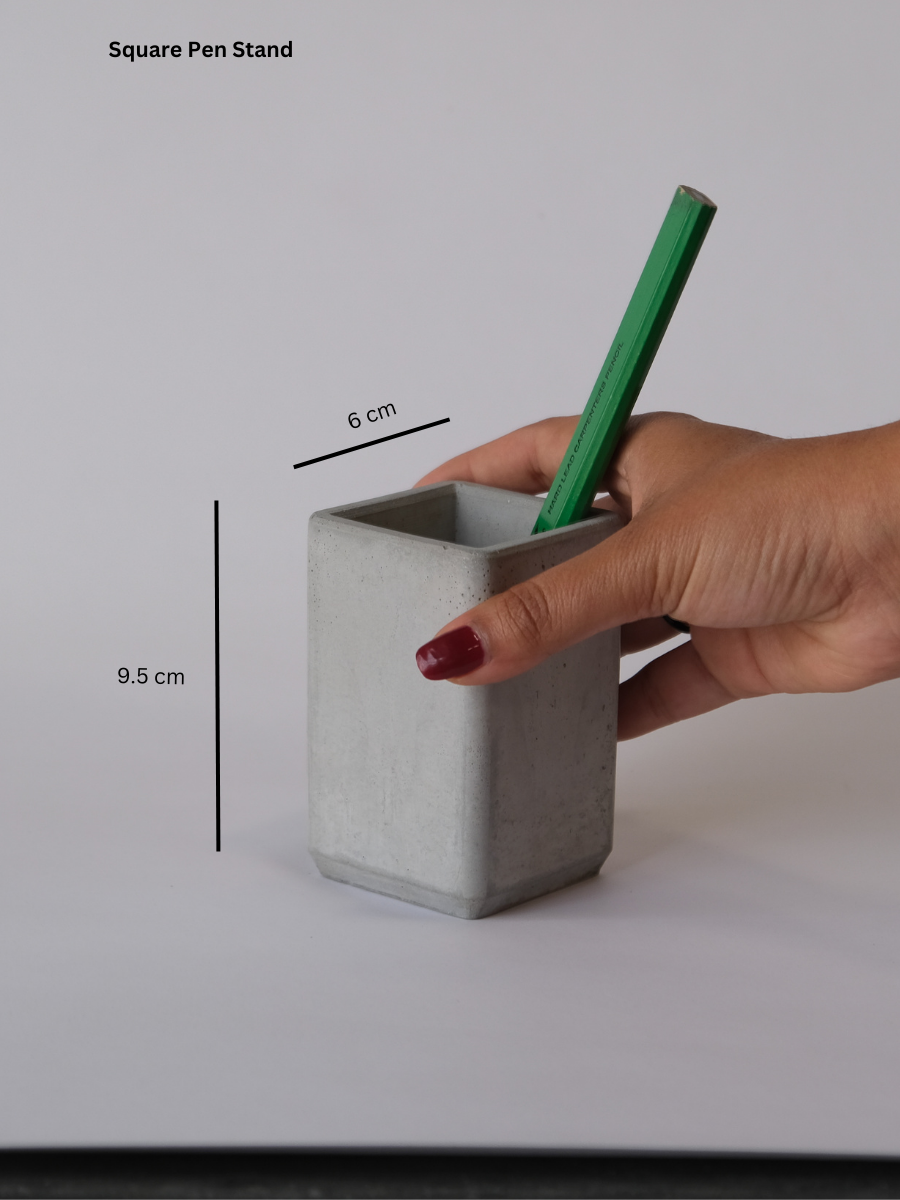 Concrete Planters
Checkout our all new range of concrete planters.
Download the Latest Catalog 2021-2022
Product Care & Maintenance
We use a water based non-emitting penetration sealer. As long as your concrete is properly sealed, it should be as easy to clean as a laminated surface.

 If you see minute hairlines/cracks/pores, that's the natural part of (hand-crafted) concrete casting which adds a beauty to the product.

For the initial days do not leave any items on the concrete top for a long period of time and take care to wipe any liquid stains immediately.
 
Use a damp cloth for regular cleaning and avoid the use of aggressive scrubbing pads or abrasive cleansers as they ruin the final polish.
 
Don't place any hot tableware or cookware directly from the stove or oven on the concrete surface.
 
Over time the concrete products can become little light or dark due to weather exposure.
 
Concrete chipping can be possible if not handled with care.
 
Don't use a sealed counter-top as a cutting board.
 
Use coasters or felt pads below anything with sharp edges.
Delivery Guidelines
 Thank you for choosing our company for your purchase. We strive to provide you with a seamless and satisfactory delivery experience. Please take note of the following guidelines regarding our delivery process:
Delivery Scope: Our company is responsible for delivering the purchased furniture product to your specified location. Our delivery team will handle the transportation of the item till ground level of designated delivery area. Please note that we do not offer installation or assembly services as part of our delivery process.

Unloading Assistance: While we ensure that your furniture is safely transported to your address, unloading the item from the delivery vehicle is the customer's responsibility. We recommend having adequate personnel available to assist with unloading larger and heavier items, as they may require more than one person.

Labour for Unloading: We would let you know the labour required to carry the installation. As it's not in our scope.                                                           
Product Inspection: Upon delivery, we kindly request that you thoroughly inspect the furniture item for any visible damages or defects before signing off on the delivery. If you notice any issues, please inform the delivery personnel immediately. This step is crucial for addressing any concerns promptly and initiating the necessary steps for resolution.

Packaging Disposal: Our delivery team will not dispose of the packaging materials from your furniture item. Please make appropriate arrangements for the disposal or recycling of packaging materials once the product has been successfully delivered.

Delivery Timeframes: We strive to provide accurate delivery estimates; however, unforeseen circumstances such as traffic or weather conditions may affect the scheduled delivery time. Our customer service team will keep you informed of any significant delays and work towards minimizing inconvenience.

Delivery Address Accuracy: To ensure a smooth delivery process, it is essential to provide accurate and detailed delivery address information during the ordering process. Please double-check the provided address to avoid any delivery issues or delays.

Communication Channels: Our customer service team is available to address any questions or concerns you may have regarding the delivery process. You can reach us through our designated customer support channels, including phone, email, or online chat.
Please understand that by opting for our delivery service, you acknowledge and accept that our company does not provide installation or assembly labor. We appreciate your understanding and cooperation in adhering to these delivery guidelines. Should you have any further questions or require assistance, please do not hesitate to contact our customer service team.